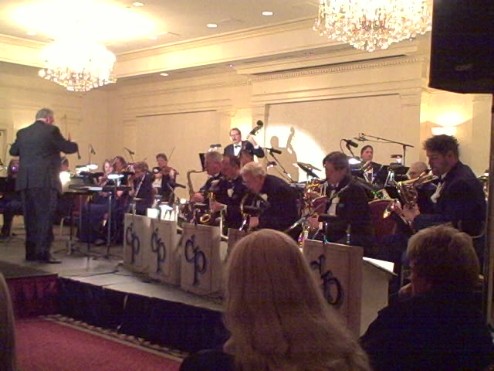 The New England Society Orchestra performing Mark Sensinger's "A Wentworth
Celebration" for Bank of America's private banking clients.
"It's very rare when a composer comes along that is sensitive to audience, soloist and musicians alike.
Mark Sensinger is that rare entity...a composer/arranger who is so in control of his craft that he can
create wonderful melodies and rhythmic content which completely leaves all involved with a unique
sense of experiencing music that will inspire and endure."
Clayton J. Poole
Conductor, Northeast Symphony Orchestra
A British music critic once noted:"Bob Dylan wanted to be Elvis Presley – but there was an opening
for a Woody Guthrie, so he took the gig." Something similar could be said about composer Mark
Sensinger, whose catalog of work covers jazz, music theater, symphonic works, and soundtrack music.
After earning his degree in Jazz Composition at Berklee College of Music (where he founded the
jazz/fusion ensemble The Ides of Mark), he provided orchestration and incidental music for 9 musical
theater productions in New England and Florida. His original pieces have been performed by the
Northeast Symphony Orchestra, the New England Wind Symphony, The New England Society
Orchestra, and the Florida Sunshine Pops. His orchestrations for the show The Rat Pack: A Symphonic
Celebration for Broadway Pops International have been performed by the Capitol City Jazz Orchestra
(Manchester, NH) and have scheduled performances by the Rockford Symphony Orchestra (Rockford,
IL) and the Reno Philharmonic (Reno, NV). As a contributing composer to the Smash Haus music
ibrary, he was one of a handful of composers asked to submit a demo for CBS' revival of the show
Let's Make a Deal. Recordings of Mark's original works have received radio play in both Europe and
Asia.
Home
Compositions & Arrangements