Welcome to the official website of Mark Sensinger. I am your one-man source ready to meet your sophisticated musical needs. I am a…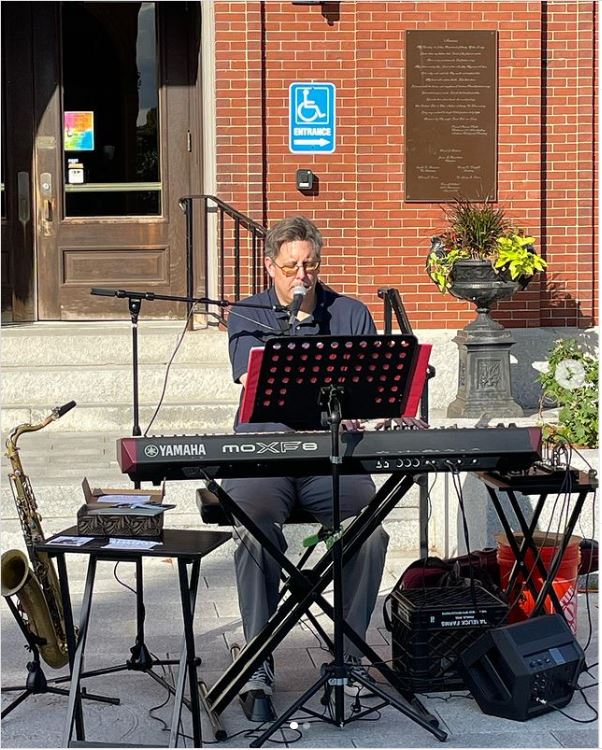 Multi-Instrumentalist
I provide a one-man band act performing jazz, blues, bossa nova, and American songbook classics on both piano and saxophone with programmed bass, drum, and string section accompaniment. My sets contain a variety of configurations – from solo piano to full band with strings and vocals.
I am currently playing regular engagements at The Colosseum restaurant – check my Upcoming Performances for dates.
Composer:
As a composer, I have completed numerous commissions for original works for prominent ensembles in the area including the Northeast Symphony, New England Wind Symphony, and New England Soceity orchestra. I also write, perform, and record original jazz pieces which I publish on Spotify, Amazon, iTunes, and my YouTube channel. Check out the Compositions and Arrangements page for some samples.
Arranger
I have extensive experience as an arranger; writing for ensembles ranging from string quartets and small combos to big bands to symphony orchestras along with a number of off-broadway credits as an orchestrator. My arrangements have been performed by the West Michigan Symphony, the Atlanta Symphony Orchestra, the Austin Symphony Orchestra, the Sun City Pops and many other ensembles. For a comphrensive list of my writing credits, check out my credits page.
Copyist
With more than 25 years experience with Finale – the industry standard for music notation software – as well as experience preparing scores for ensembles ranging from string quartets to theater pit orchestras to full symphony orchestras, I am well equipped to meet your music preparation needs.